2022 Fulton Montgomery Chamber Annual Celebration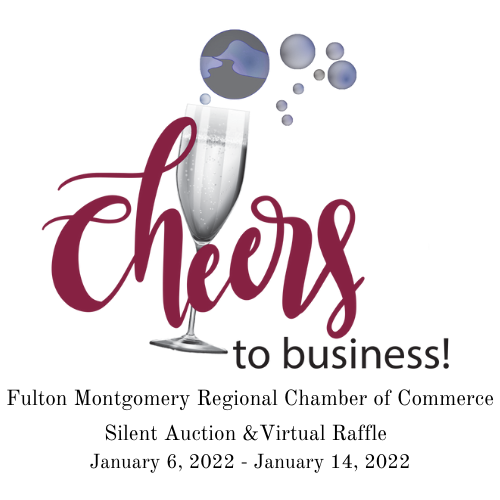 Presenting Sponsor
$ 5,000
Recognition in President, Mark Kilmer's video speech
Your company's own web page on the event website
Top recognition in celebration marketing collateral including press release, news media, and Newsline newsletter
Clickable logo on each page of the event website
Full integration in Chambers social media plan surrounding the event, including Facebook event page (3,000+)
Linked logo on all event e-newsletter communications before and after event (2,000+)
Largest and top logo placement in our after- celebration thank you advertising in local media publications
Special edition e-newsletter exclusively promoting your business and sponsorship
Gold Sponsor
$ 3,500
Clickable logo on each page of the event website
Your company's own web page on the event website
Linked logo on all event e-newsletter communications bef ore and after event (2,000+)
Logo placement in our after-celebration thank you advertising in local media publications
Recognition in celebration marketing collateral including press release, news media, and Newsline newsletter
Full integration in Chambers social media plan surrounding the event, including Facebook event page (3,000+)
Silver Sponsor
$ 2,500
Name placement in our after-celebration thank you advertising in local media publications
Recognition in celebration marketing collateral including press release, news media, and Newsline newsletter
Full integration in Chambers social media plan surrounding the event, including Facebook event page and Chamber Connections e-newsletter
Clickable logo on the silver sponsor web page
Bronze Sponsor
$ 1,000
Name placement in our after-celebration thank you advertising in local media publications
Recognition in celebration marketing collateral including press release, news media, and Newsline newsletter
Clickable logo on bronze sponsor web page of event website
Partial integration in Chambers social media plan surrounding the event
Wine Sponsor
$ 250
Clickable logo on wine sponsor web page of event website
Name placement in our after-celebration thank you advertising in local media
Recognition in celebration marketing collateral including press release, news media, and Newsline newsletter
Social media post thanking wine sponsors
Raffle Donations
We are accepting raffle prize donations for our virtual silent auction and raffle. Baskets are requested by December 15, 2021.
Your generosity includes:
Recognition in celebration marketing, including press releases, social media, and Newsline newsletter
Donation Acknowledgement on the raffle website
Name placement in our after-celebration thank you advertising in local media publications
Supporting the Chamber's mission and vision for our community!