The lobby of the Chamber's Gloversville building is a large open space, doubling as a gallery where Chamber members are invited to display their work.  You do not have to be an artist; any kind of creative, "artistic" material is welcome. Feel free to be innovative and show your product in a new light!
We have rotating events and there are openings for 2021.  If you have questions or are interested in booking a show, please contact Nicole Tennant at (518) 725-0641 or via email at info@fultonmontgomeryny.org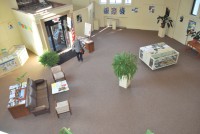 Chamber responsibilities for the show:
To provide visitors with information about the show, featured artists, and information about individual pieces of artwork (Sale Price, NFS, media used, etc.)
To promote the show to Chamber members through monthly newsletter and e-mail messages
To promote the show to the public through local media
Gallery Receptions: Chamber will staff for the duration of the event, help with set up and clean up
Host/Coordinator responsibilities for the show:
To make sure artwork is delivered according to deadlines mutually established by Chamber and Host/Coordinator
To collect information about the show's artists, including contact information, and artist bio, statement, art media used for individual pieces, price of individual pieces, and provide it to the Chamber for promotion and gallery information
To assist with the placement of artwork and hanging/presentation of said artwork
Gallery Reception: should you wish to have a reception for the show, you will need to provide the refreshments to be served to the attendees.